SPORTS INFORMATION DIRECTORS
This directory is a Who's Who of the best of the SIDs who put in long hours and even longer careers promoting Black College athletics.  They were responsible for elevating their sports programs and athletes who excelled at their crafts.
The most prominent name on the list belongs to the Dean of SIDs, Collie Nicholson (Grambling State), one of many who spent their entire careers at one institution, i.e…Sam Jefferson (Jackson State), Ed Hill (Howard ), Bill Hamilton (SC State), Chuck Prophet (Mississippi Valley) and Kendall Stephens (Tennessee State).
The Dean of Black College Sportswriters
Collie J. Nicholson
July 7, 1921- September 13, 2006
Winfield, LA
Grambling State University '48
Bill HAMILTON
South Carolina State
Jim CUTHBERTSON
Johnson C. Smith
Chris FISHER
North Carolina Central
Wallace DOOLEY
Tennessee State
Sam JEFFERSON




Jackson State
Phil BUSHER, Johnson C. Smith
Sam CAREY, Winston-Salem State
Wilson CHERRY,  North Carolina A&T
Craig COTTON, North Carolina A&T
Carol HUDSON, Hampton Institute
Wallace JACKSON,  Alabama A&M
Kevin MANNS, Winston-Salem State
Kevin MORRIS, Texas Southern
Kevin MOSES, Clark Atlanta
Lloyd WELLS, Texas Southern
Roosevelt WILSON, Florida A&M
LeCount CONAWAY
Virginia State
Henry HAWKINS
Grambling State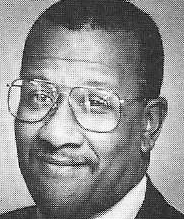 Arnold HOUSTON
Tuskegee Institute
Maxine LEWIS
Delaware State
Stanley LEWIS
Grambling State
Jean MASON
Maryland Eastern Shore
Eric MOORE
Fayetteville State
Jayna OAKLEY
Kentucky  State
Lee G. PEARSON
Savannah State
Chuck PROPHET
Mississippi Valley State
Al ROSEBORO
North Carolina Central
Ken SNELLINGS
Norfolk State
Kendall STEPHENS
Tennessee State
Russell STOCKARD
Grambling State
Paul WILLIAMS
Virginia Union